Invest
Explore 5 different options for investing in ZenniHome. Join the ZenniHome family of over 850 investors so far.
Investor Testimonials
Hear what ZenniHome investors have to say about their choice to invest. Hundreds have joined the family. Join the ZenniHome movement to transform the housing industry!
Better than Boxabl
I've been following the industry for years. I invested because ZenniHome has supplanted my previous favorite factory built building manufacturer, Boxable. We have a 3-acre lake property that we've considered putting homes like this on, in addition to the four traditional homes we already have on it. We're also considering a mother-in-law home on our personal residence if the city will give us permits.
Big picture
I love seeing progressive companies looking at the big picture of forecasting issues in society. Then implementing a real solution to the problem. I've been watching for about 5yrs the use of containers for home building with environmental awareness. I just recently started investing in companies on wefunder.com. Thank you.
ZenniHome is the future
Zennihome is the future of modular homes with it robotic furniture that's built inside this is a unique game changer the very fact you can have different levels in terms of floors inside the modular homes is very impressive theyhave a solid steel fame that have a solid foundation to it. Bob Worsley has a genius from being Senator of Arizona to having built Skymall who later bought by Rudolph Murdoch shows that he talent from a political arena to running a successful business Zennihome is a game changer in the modular housing industry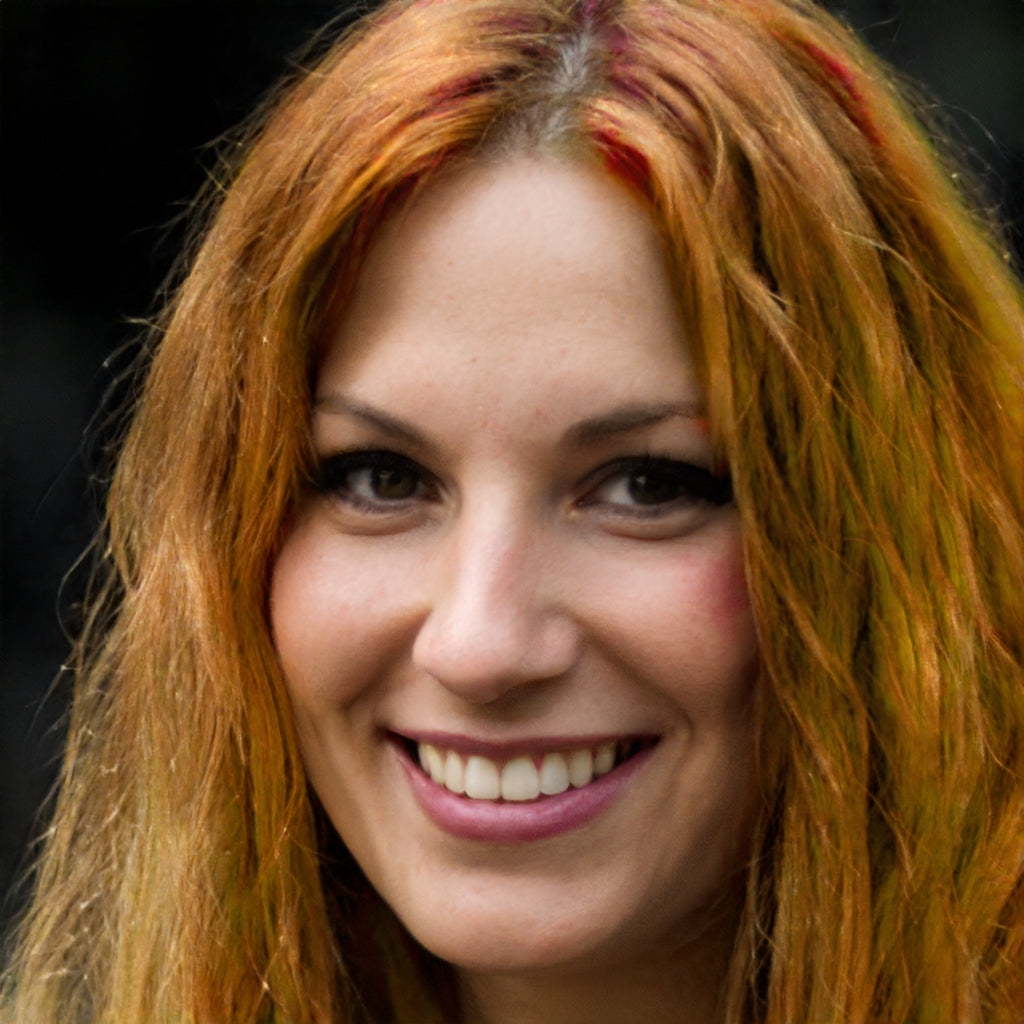 Mission and design
I invested because I believe in the mission to build affordable homes. Plus I really love the design and small footprint of your homes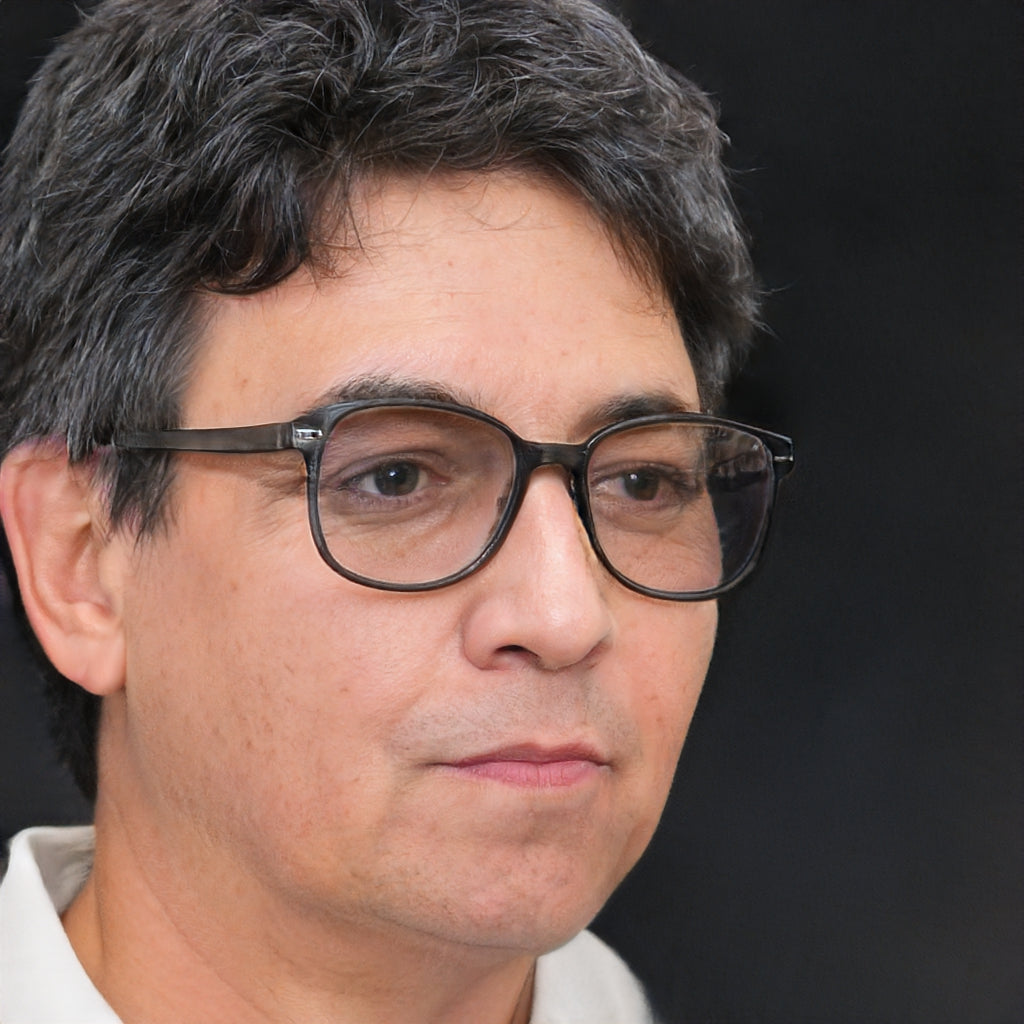 Solving the housing shortage
I like the mission to try and solve the housing shortage
Easier, cheaper, but more sexy
Housing for many is an unattainable goal. To make it easier, cheaper but more sexy is an admirable objective. I believe ZenniHome can achieve this and more…
Experienced Team
The ZenniHome team has decades of experience with building companies and not only have the expertise, but also the motivation to improve and change the way housing works in our country.
Great investment
An irresistible pitch, extremely experienced team, and so many things in the works that make me confident that Zennihome will continue to be a huge success and great investment
Obsessed with sustainable living
I am a strong believer in sustainable living. This is one of my goals in life, my passion, and maybe an obsession. I love the design, the strategy, and mission of ZenniHome - that is why I am investing
Affordable housing for next generation
I express my support and thanks for your company and its mission to make homeownership more affordable for the next generation. As a young person, I know firsthand the challenges of trying to buy a home in today's market. The cost of housing has skyrocketed in recent years, and it is becoming increasingly difficult for young people to save up enough for a down payment. Your company's innovative approach to homebuilding is a much-needed solution to this problem. By building homes on a factory assembly line, you are able to reduce costs and pass those savings on to consumers. This makes your homes more affordable, which is essential for young people who are trying to get started in the housing market. In addition to being affordable, your homes are also highly energy-efficient. This is important for young people who are concerned about the environment and who want to reduce their carbon footprint. I believe that your company is making a real difference in the lives of young people. You are making it possible for us to own our own homes, which is a dream that has been out of reach for many of us. I am grateful for your work, and I wish you all the success in the future.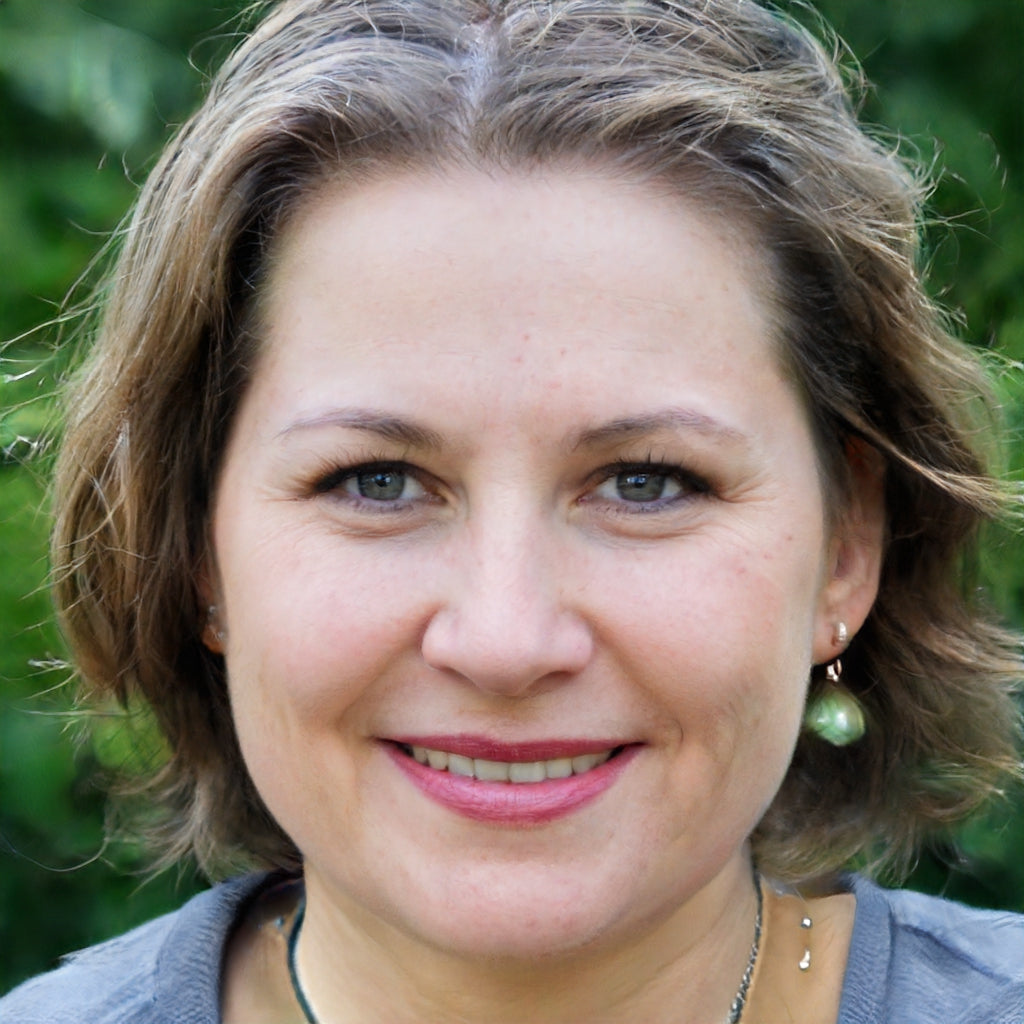 Great plan for growth
It sounds like the best small home idea I've seen thus far, plus has a great plan for growth and very little debt on the books. The space saving robotic ideas on beds and closets is first rate and makes the home incredibly spacious for the user without limiting its usage to people who can climb ladders to get into a loft bed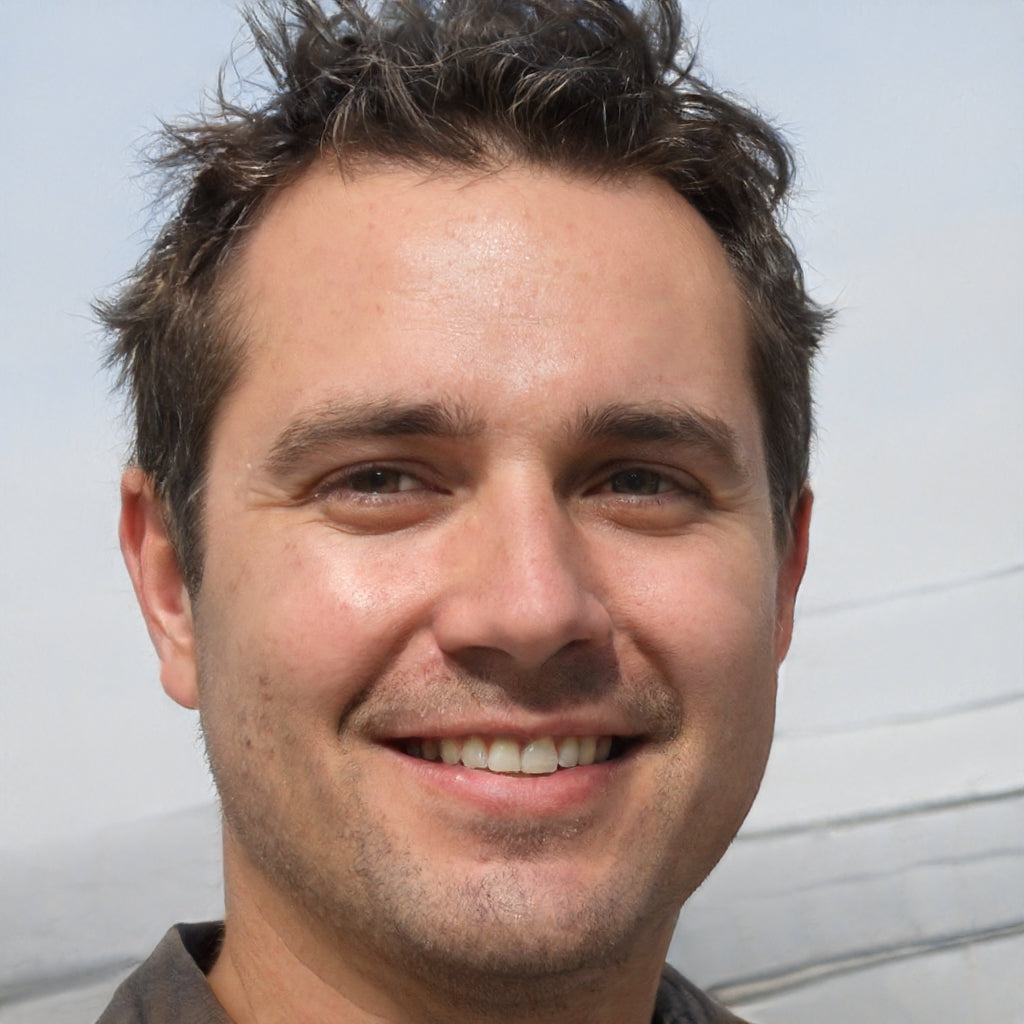 I'm a builder and see the value in this
I'm a Designer, Builder and Realtor so I see the value in this.
Why invest in ZenniHome?
We are transforming a $2Trillion US housing market with never-before-seen robotic stackable housing. See more on our company below
Invest in the future of housing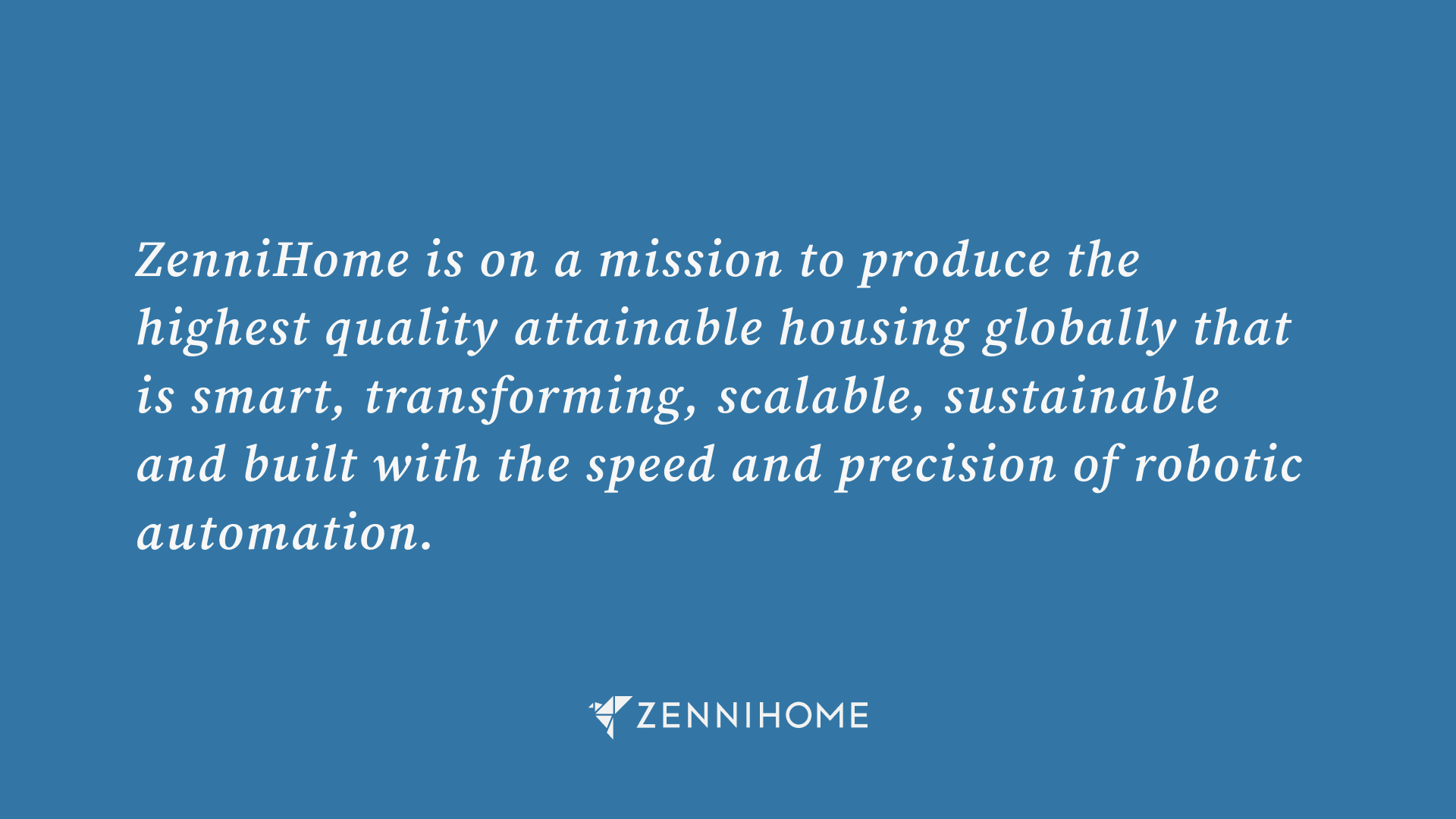 Our mission is to completely disrupt the housing industry, and we'll share our journey with you. The interest in ZenniHome has been extraordinary, underscoring the need for innovative, attainable, and sustainable housing solutions.
Traction
The incredible demand for our housing units, even before our public launch, speaks volumes about the need for affordable, quality homes. These soft orders have come purely through unpaid organic traffic, a testament to the power of our vision.
Our community's enthusiasm is palpable, and their support is taking our vision viral. The unprompted fan-generated content, boasting over 400,000 views, is a testament to the excitement around our products.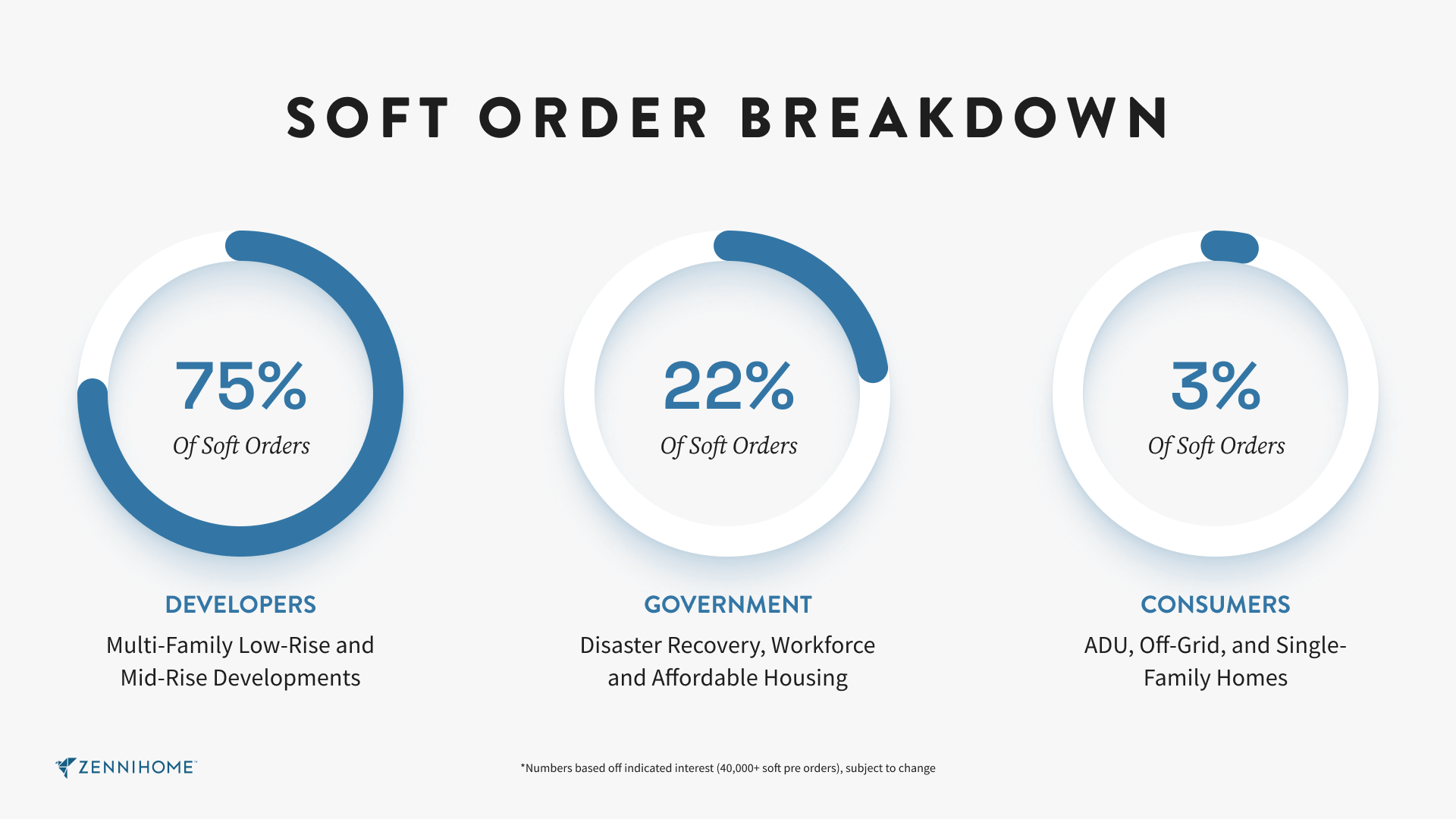 The demand for our units spans across a diverse range of customers. Developers, government entities, and individual consumers all recognize the potential ZenniHome holds for the future of housing.
After 3 years and over $10 Million invested, we're ready to share our vision and technology with the world. We are flipping the traditional home and apartment building industries upside down with our innovative approach to manufacturing housing. Our masterful architecture, engineering, and design teams have iterated many times to achieve a world-class quality product ready for the spotlight.
Our first units are not only installed and operable, but also available for tours. Seeing is believing, and we're excited to show you just how transformational our homes can be.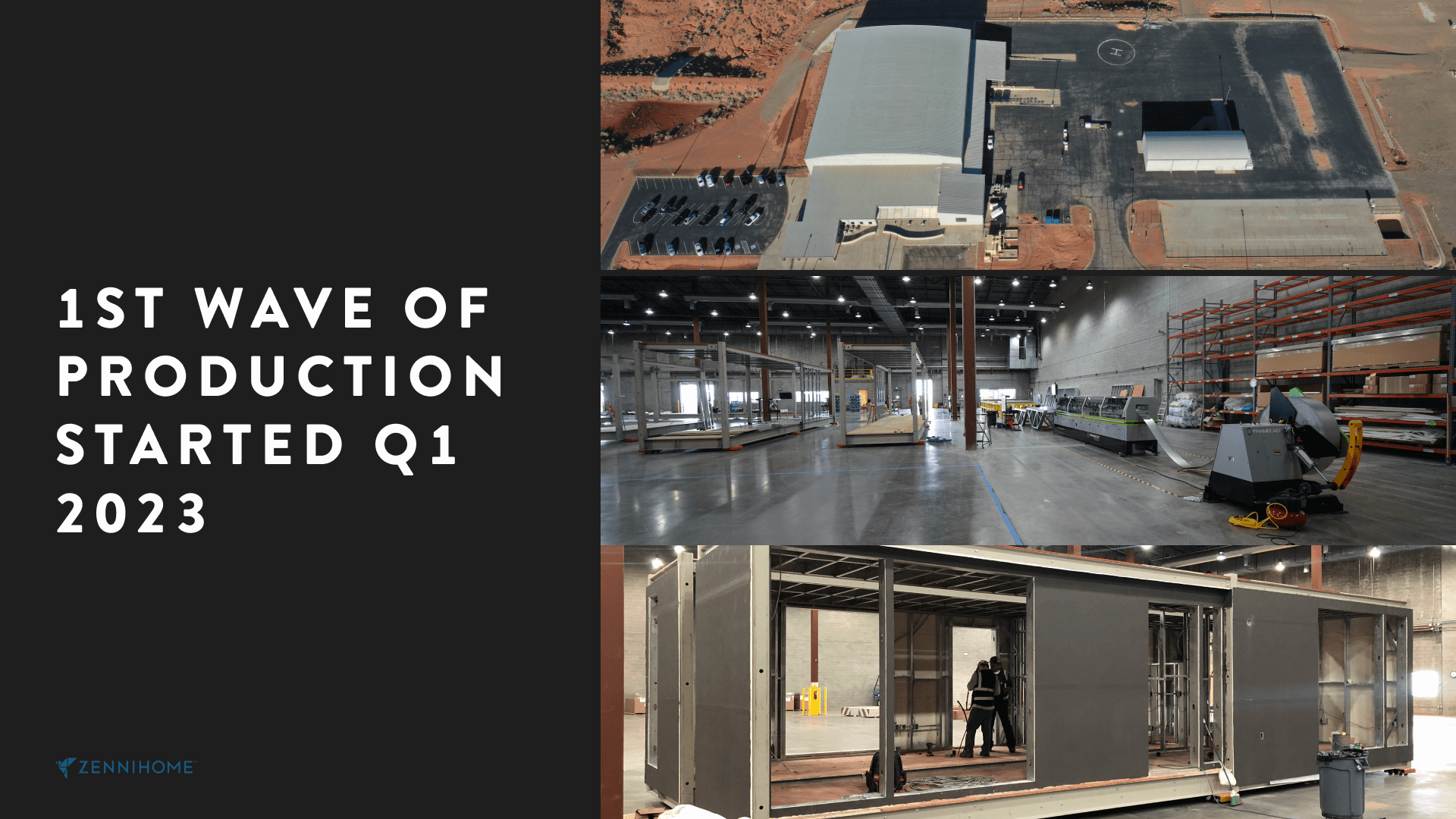 With the first wave of production already underway, we're on track to meet the growing demand for our disruptive homes.
Welcome to our homes
No one has seen homes like this before. The technology and innovation here is unrivaled.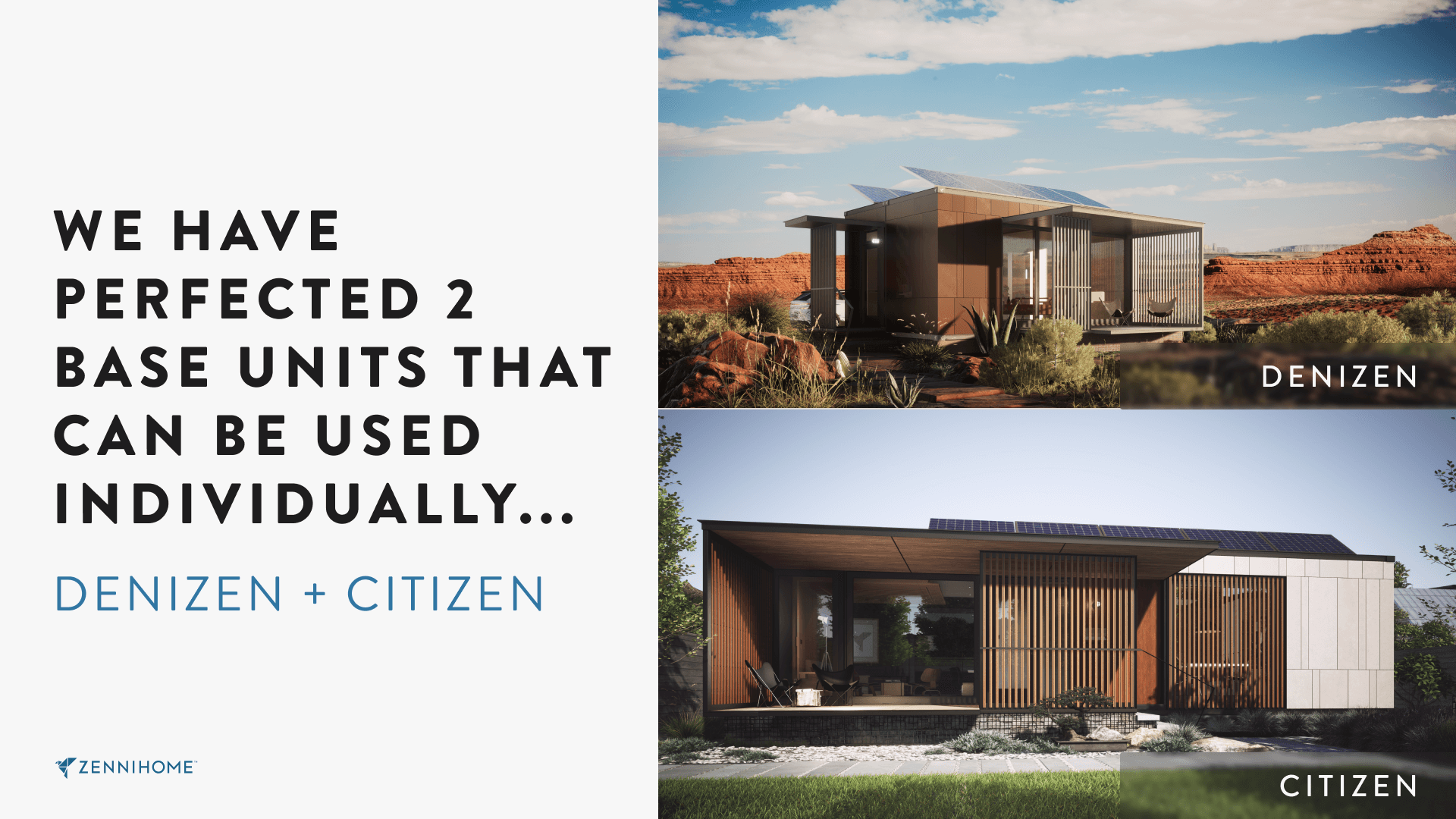 At ZenniHome, we're proud to introduce our perfected base units: The Citizen and the Denizen. These units are designed to stand alone or serve as building blocks for larger developments.
By stacking our base units, we can efficiently create multi-unit developments we call ZenCity. This unique capability allows us to shatter traditional building timelines and provide a scalable solution for multifamily communities.
Our commitment to uniformity in the basic design isn't a limitation; it's our strength. By focusing on perfecting our base units, we can manufacture homes at unprecedented speed, quality, and scale while offering color options much like auto makers.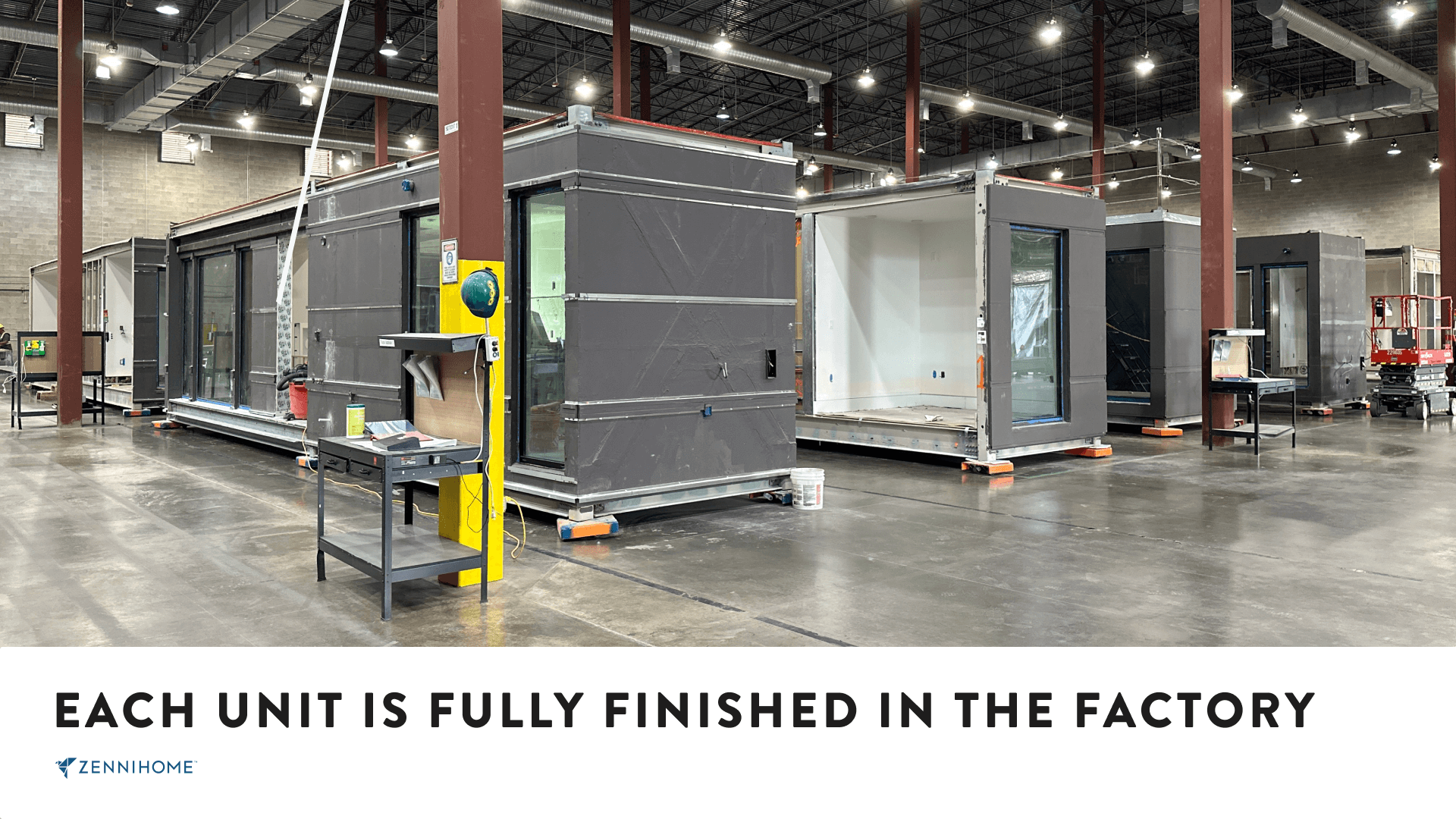 No detail is too small for our team. Each unit is fully finished in the factory, ensuring the highest quality of craftsmanship while eliminating the typical hassles of on-site construction.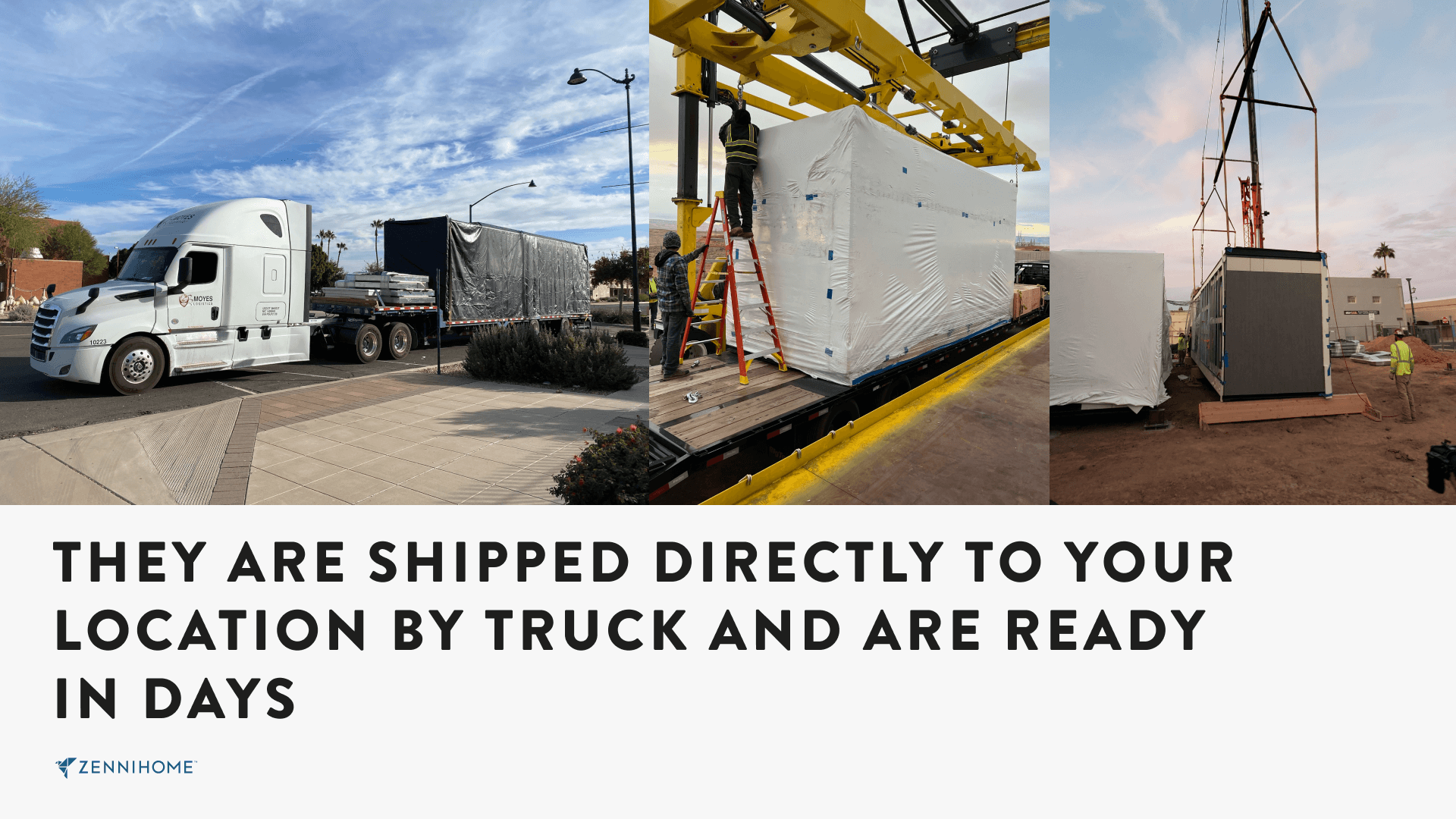 Our homes are conveniently delivered directly to your location and can be ready to go in days. This ease of installation is another way we're transforming the housing industry.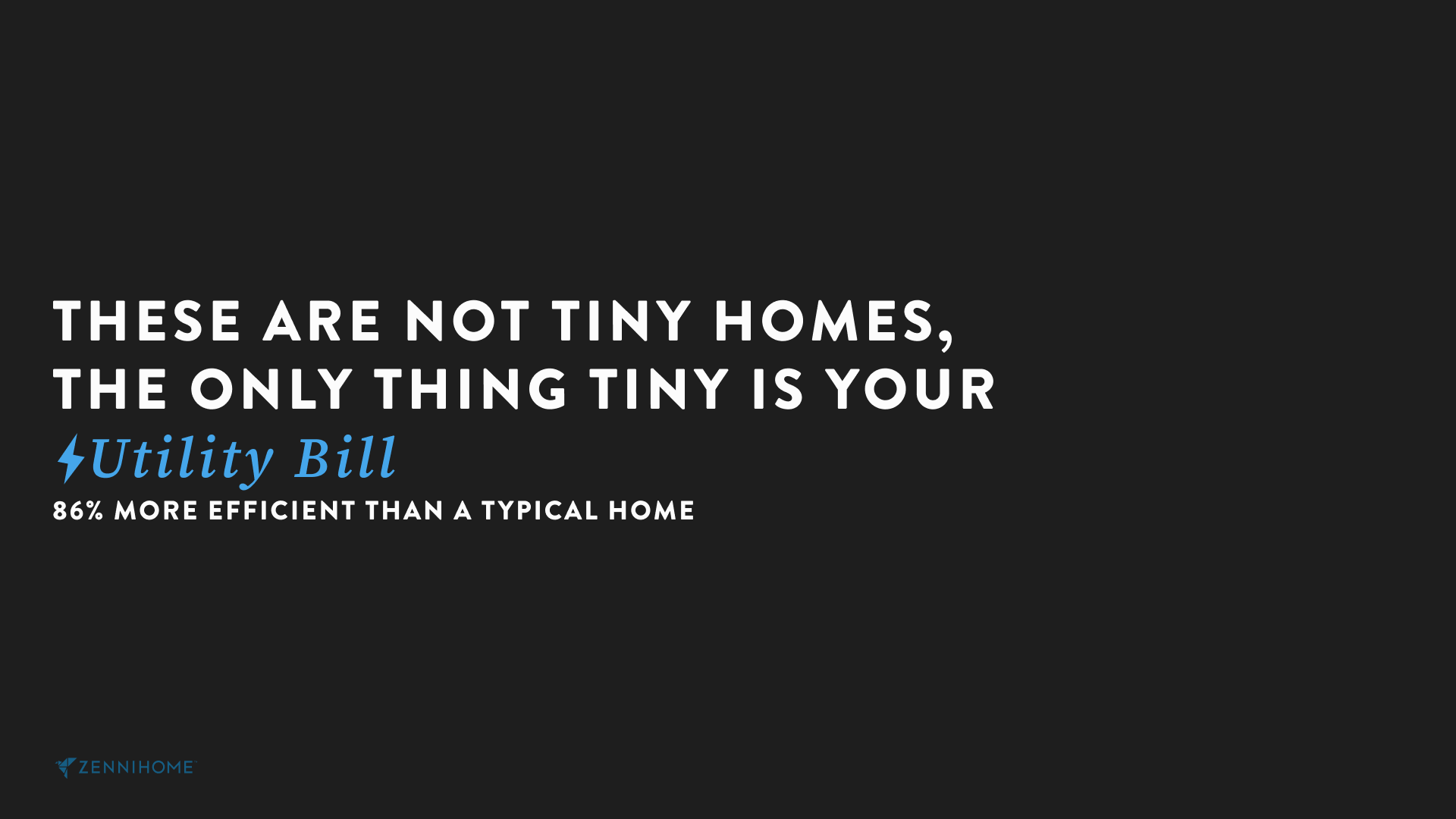 We've gone above and beyond with insulation and energy efficiency. Combined with the smaller footprint, the operating costs of these homes are extremely inexpensive. If you choose to add our solar options, you can go off grid.
Our efficiency values are as follows:
Door U Value - 0.57
Exterior walls - R35
Ceiling and floor assembly - R29
Windows U Value - 0.35
People who tour our homes are often surprised by how spacious they feel. Our innovative design makes each square foot work harder, creating a sense of openness that defies the compact footprint.
The dramatic floor-to-ceiling glass creates an overwhelming feeling of openness and freedom.
One of our signature design elements is our dramatic floor-to-ceiling glass, which invites natural light into the space and blurs the line between indoors and outdoors.
The transforming furniture and walls allow flexible usage of the same square footage.
Our transforming furniture and walls enable flexible usage of space. As a result, our 640 square-foot Citizen model functions as if it were over twice its size.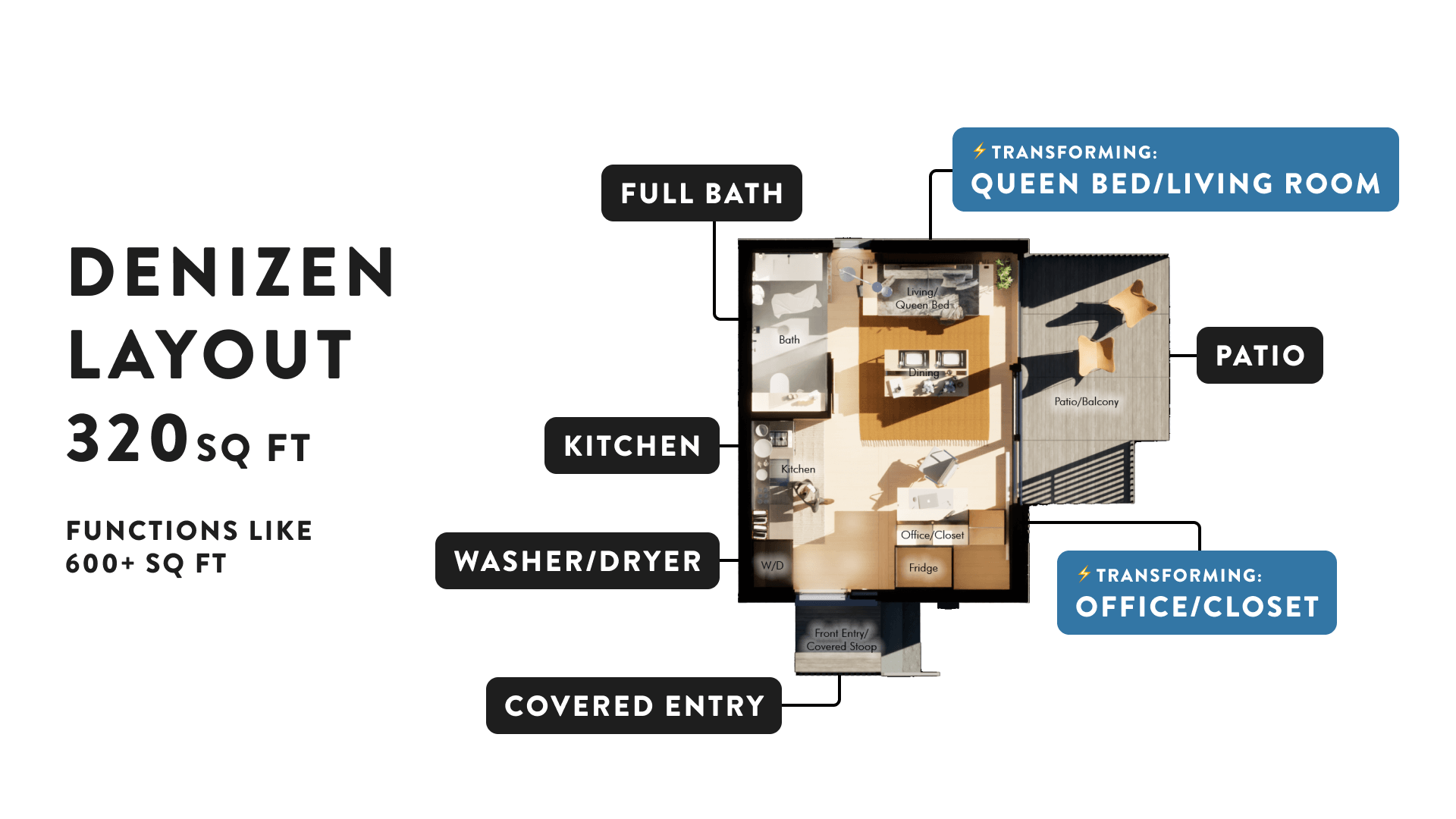 We're rethinking traditional home design. Instead of static floor plans, we're using transformative furniture and space optimization strategies to create dynamic living spaces that change to your needs.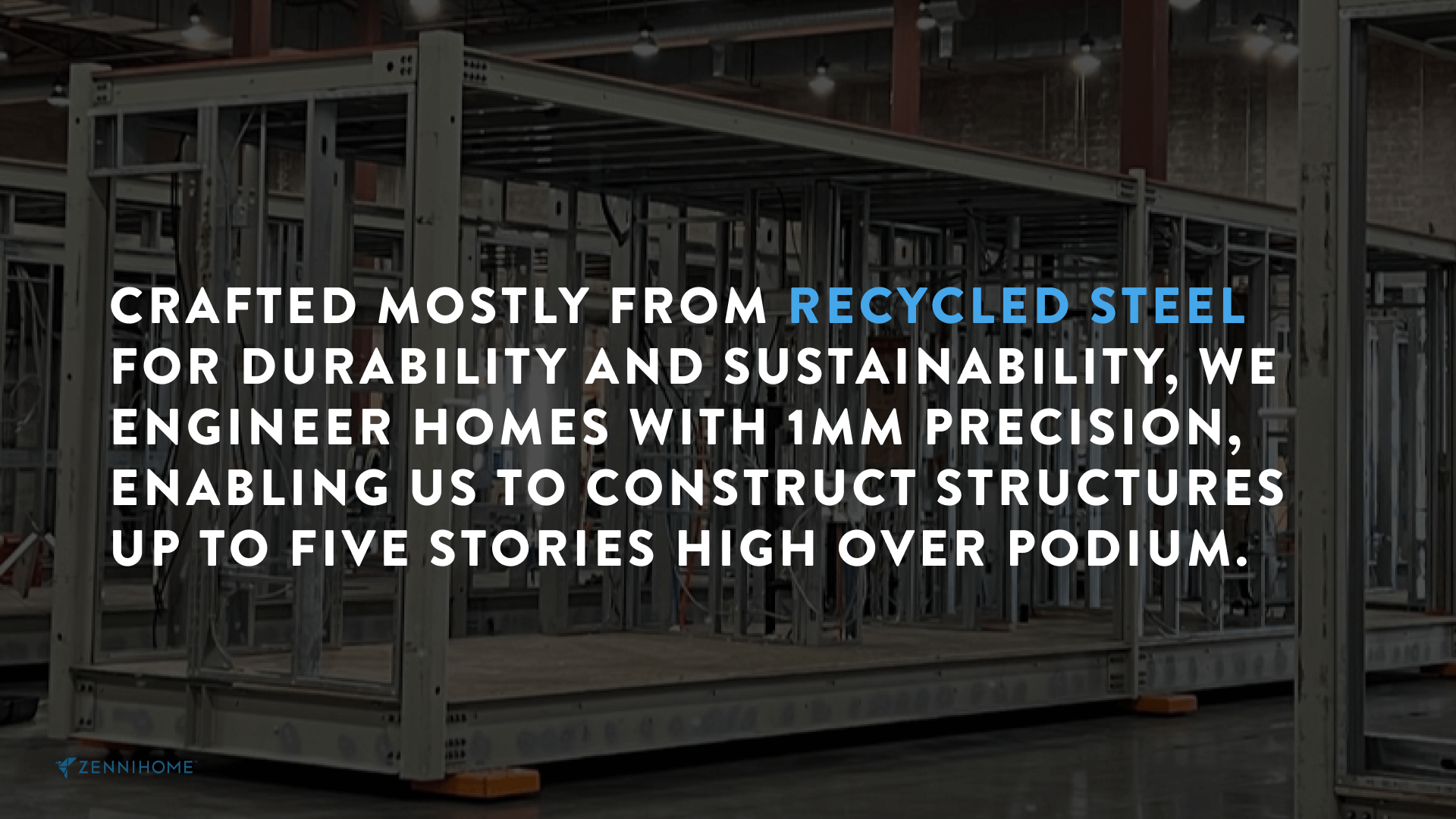 Our commitment to sustainability is reflected in our choice of materials. We build our homes mostly from recycled steel, which not only reduces our environmental impact but also enables us to build with remarkable precision and height.
Massive market potential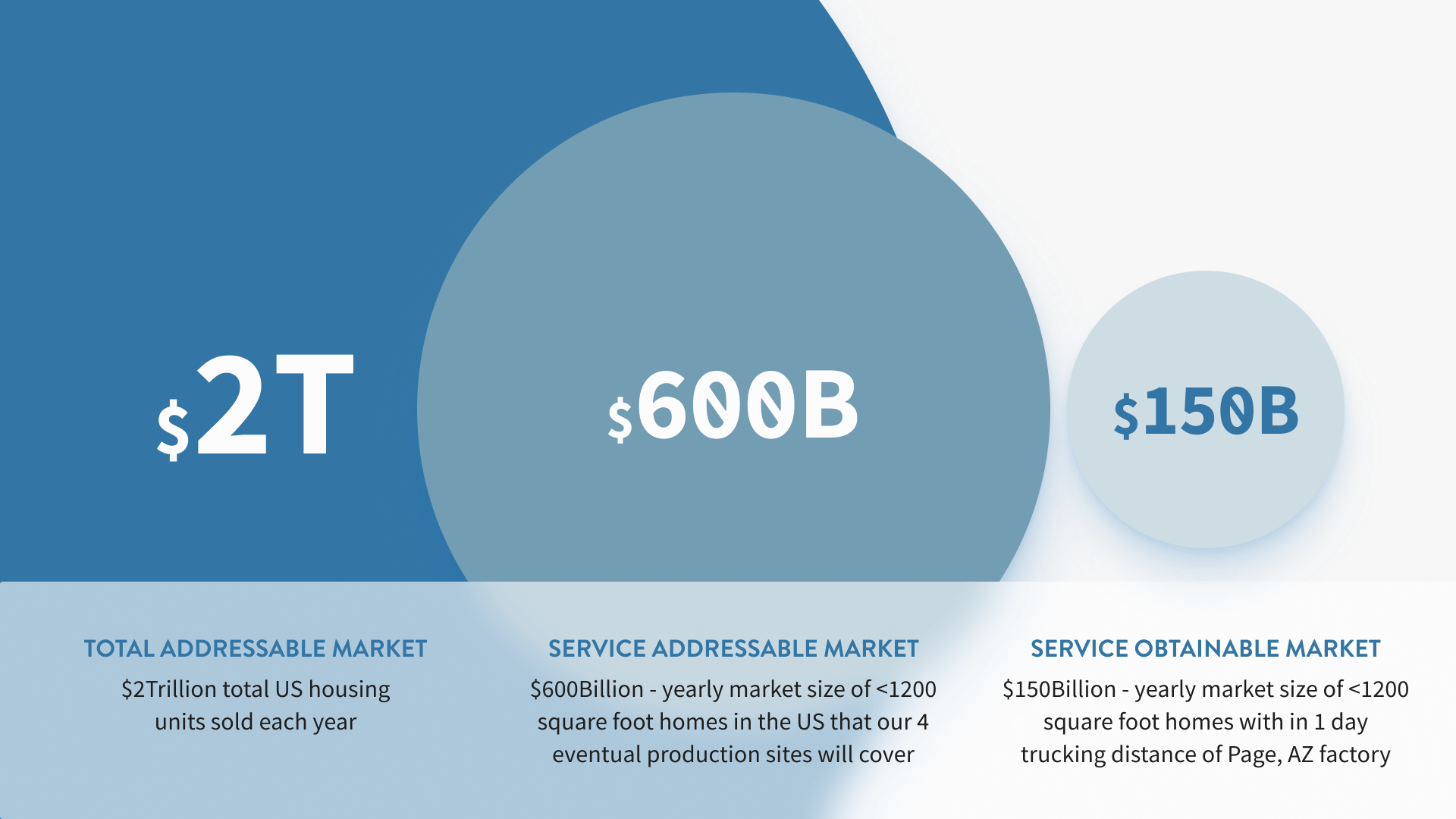 The market size for ZenniHome is staggering. The total addressable market is $2 trillion, representing the total value of US housing units sold each year. We're primarily focused on homes under 1200 square feet, which constitutes a service addressable market of $600 billion. With our four planned production sites, we aim to serve a significant portion of this market. Moreover, our obtainable market, the market we can immediately serve, amounts to $150 billion, representing homes within a day's trucking distance from our factory in Page, Arizona.
Our mission is not just about profits; it's about addressing a pressing need. The U.S. housing market is currently short by 6.5 million homes. Through our efficient, scalable model, we aim to address this gap and provide quality housing to those who need it most.
The affordability crisis is real. Since 2000, the median home price in the US has risen by over 180%. In fact, housing affordability is worse today than during the peak of the 2008 housing bubble. We're determined to reverse this trend and make quality housing accessible to all.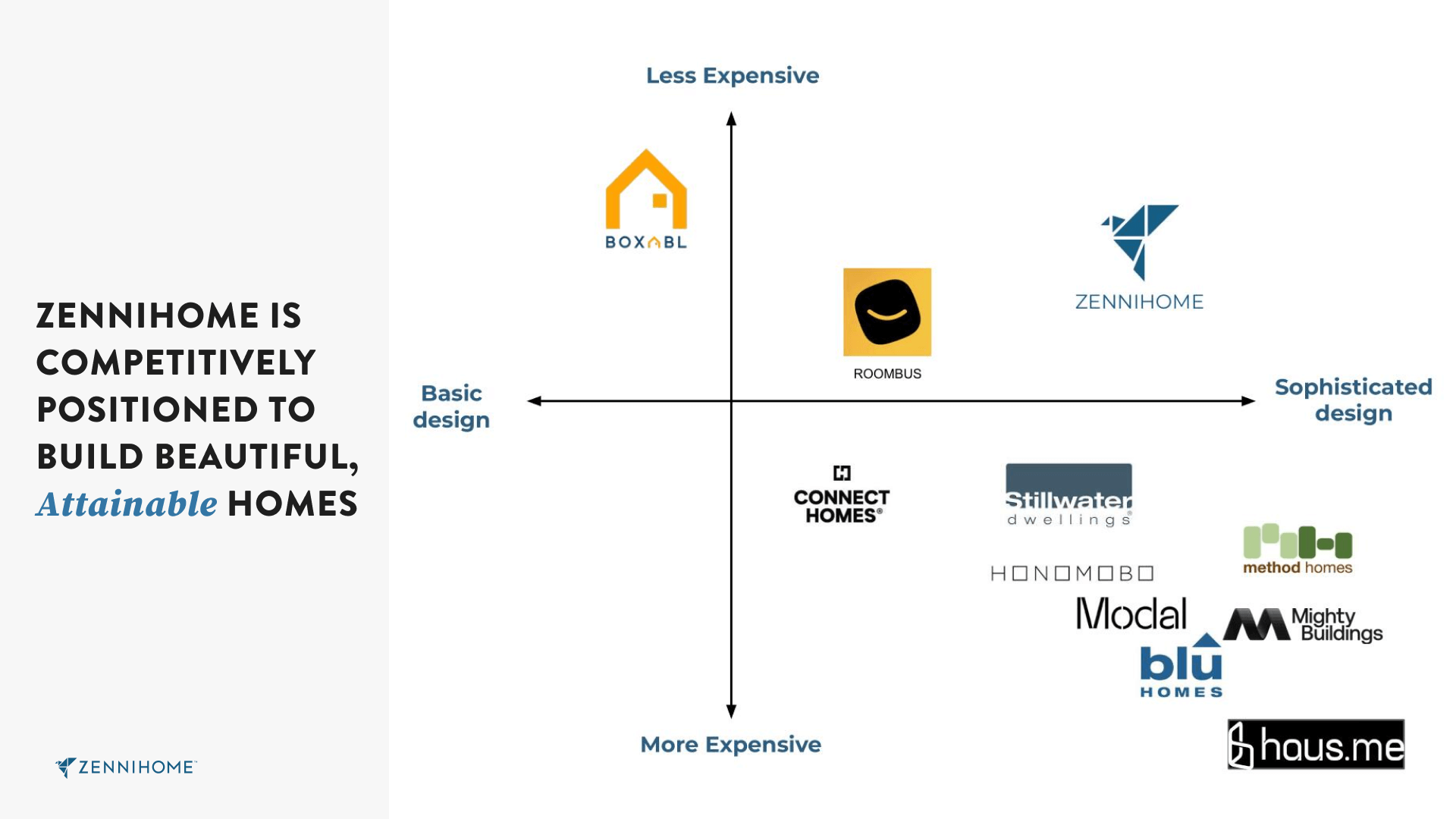 We firmly believe that ZenniHome is competitively positioned to create beautiful, attainable homes. We have the technology, the team, and the drive to make a difference.
World class team
Our team is our greatest asset. We're proud to be led by a nationally recognized team of industry experts, including Bob Worsley, Stephen James, Trevor Barger, Connie Carras, Chris Loeffler, and Mindy Rex. Each member brings a wealth of experience and passion to our mission.
Growth and the future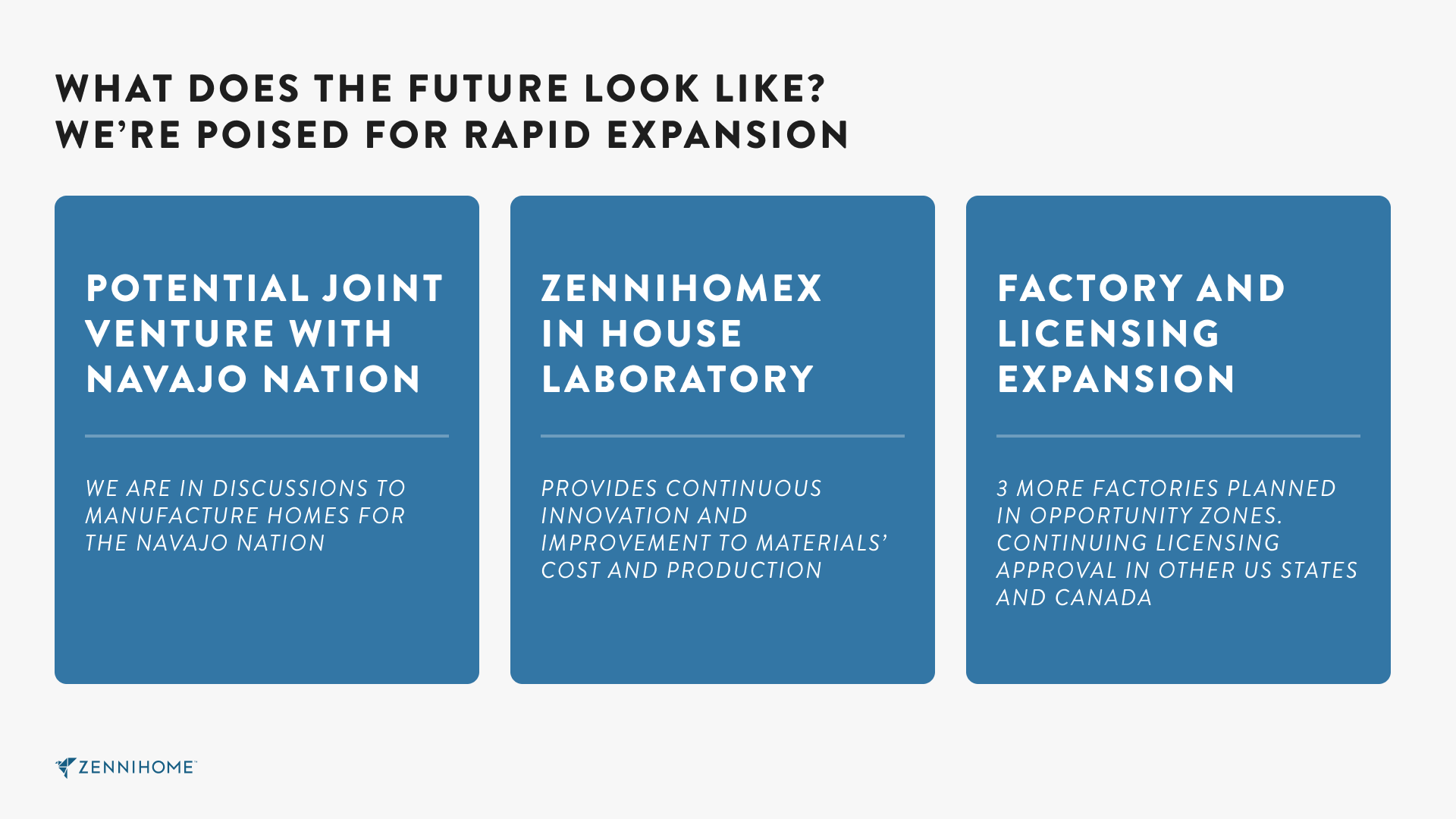 Looking ahead, we're poised for rapid expansion. We're in discussions to form a joint venture with the Navajo Nation to manufacture homes for their people. At the same time, our ZenniHomeX Laboratory is dedicated to continuous innovation and improvement, driving down material costs and boosting production. We're also planning to build three more factories in opportunity zones and are in the process of obtaining more state licensing approvals in the US and Canada.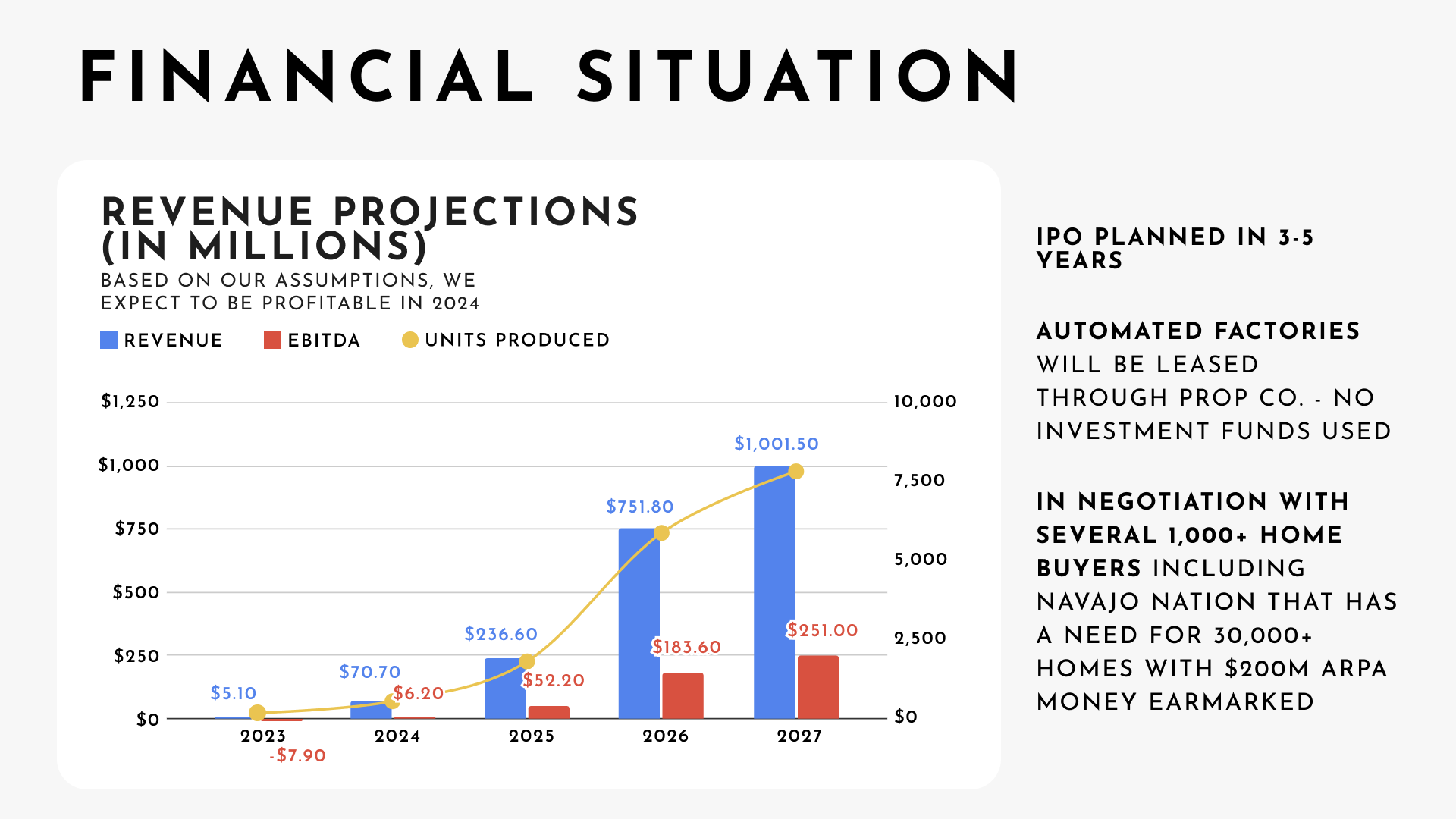 Our revenue projections are robust. Based on our current assumptions, we expect to be profitable by 2024, with revenues growing from $5.1 million in 2023 to $70 million in 2024. These projections reflect our commitment to growth and profitability.
In order to accelerate our growth, we're currently raising capital. Over the next few years, we have ambitious plans. We have started production on our first 90 unit multi-family project in Mesa, AZ called 29 West. We will finish a substantial number of those units this year. We also plan to broaden our regional presence by installing homes in high-visibility areas in Arizona, California, Utah, Colorado, and Idaho. Moreover, we aim to scale our factory production by adding another factory shift to increase production.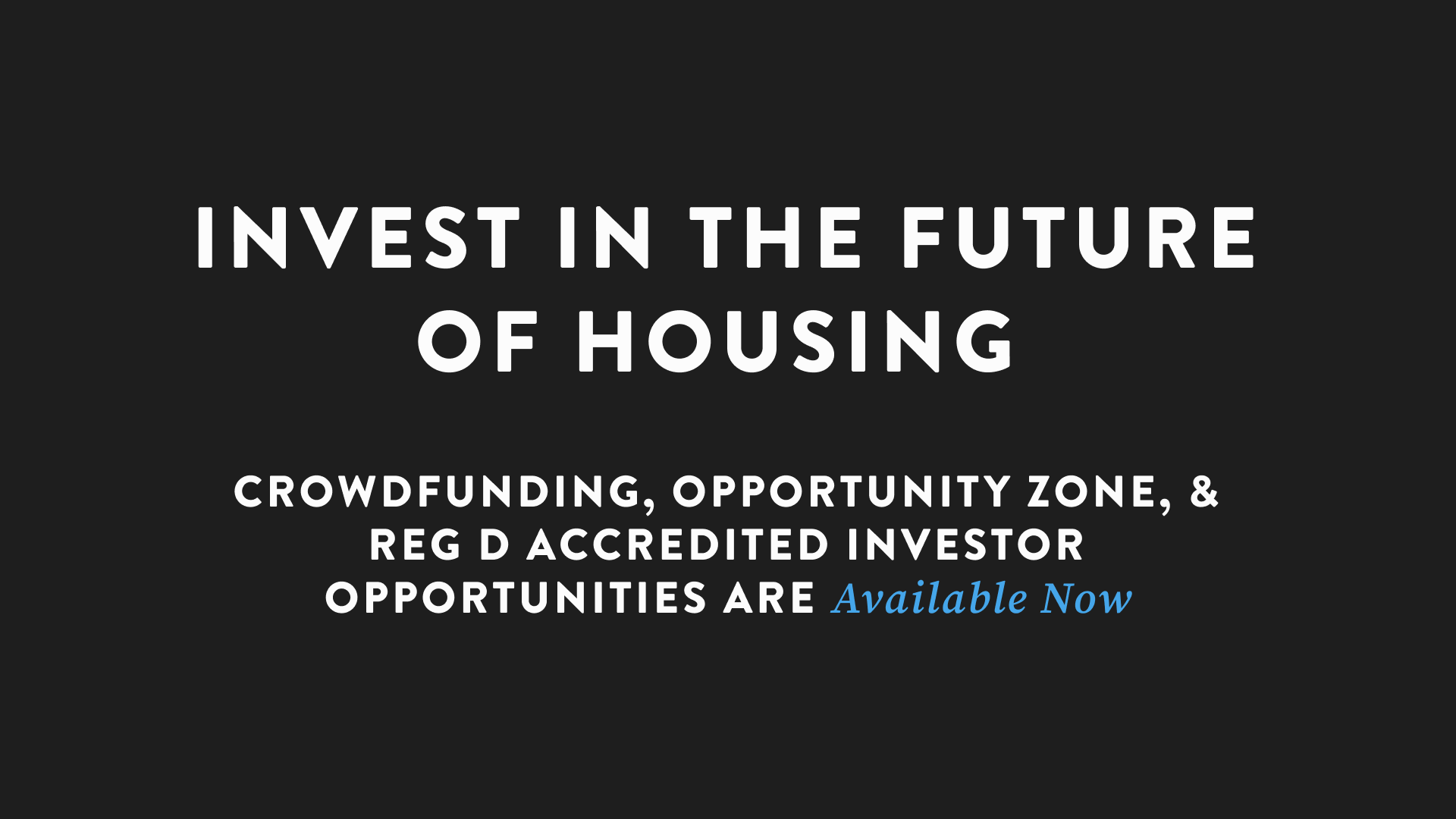 And now, we invite you to be a part of this journey. Invest in the future of housing! By investing in ZenniHome, you're not just investing in a company; you're investing in a vision of a more affordable, sustainable, and innovative future for housing. Thank you for considering investing, and we hope to welcome you to the ZenniHome family!

Learn more about our ZenniHome units!